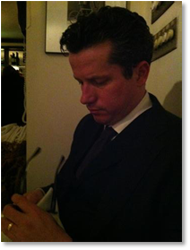 I am a former British diplomat, and Middle East and WMD expert, who resigned in 2004 after giving then-secret evidence to a British inquiry into the Iraq war.
After I quit, I founded the world's first non-profit diplomatic advisory group, Independent Diplomat, which advises democratic countries and political movements around the world.   In 2007, my critique of contemporary diplomacy was published: "Independent Diplomat: Dispatches from an Unaccountable Elite".  A new edition was published in 2017.
You can see more about Independent Diplomat at its homepage www.independentdiplomat.org.
This site offers news about my writing and media appearances on world affairs and my deepening interest in alternate systems of organising our affairs, in particular anarchism.  My book, "The Leaderless Revolution: how ordinary people will take power and change politics in the 21st century" (Penguin Books) goes into these ideas in more detail.  My first TED talk provides a bit more about my story.  And this recent TEDx talk is more about why I believe in anarchism  There's a documentary feature film about me and my ideas called, "Accidental Anarchist".  You can see a trailer for the movie here and more information on the film Facebook page.
My experience from inside government dealing with some of the most difficult of contemporary challenges – climate, terrorism, Iraq, Afghanistan – has convinced me that government, as currently constituted, is a poor and failing mechanism to deal with the world's problems.  We need to look for alternatives, not least action by us, ourselves.
Media Work
My work with Independent Diplomat has been profiled in Buzzfeed, Foreign Policy, the New York Times and Time magazine.  This profile in The Observer is a good account of me and my ideas.  This interview in the LA Review of Books is the best interrogation of my political ideas.  Al Jazeera English  broadcast a short documentary about Independent Diplomat's work.  You can see a full list of my press articles and other writing here, and a full list of my other media appearances here, including  appearances on The Colbert Report and the Bill Moyers show.  You can follow me on Twitter – @carneross